How It Started
We – my husband Mitchell and I – are originally from Texas, and we both work in the tech industry. We have been visiting Belize for about a decade – our first trip was a last-minute, random Groupon (we hadn't ever considered Belize before!). We fell in love with the country from day one – getting engaged in San Pedro on our second or third trip, followed by renting Thatch Caye for our wedding two years later. We had been chartering crewed sailing catamarans or taking sailing day trips on every trip, and we could never get enough. We had always planned to retire in Belize as early as possible (we're in our late 30s now), but the global pandemic had a silver lining that allowed us to work from anywhere and speed up our plans. We sold our home in Texas and bought a small condo in Dallas to have at least have a pied-a-terre, and then made the big move to Belize.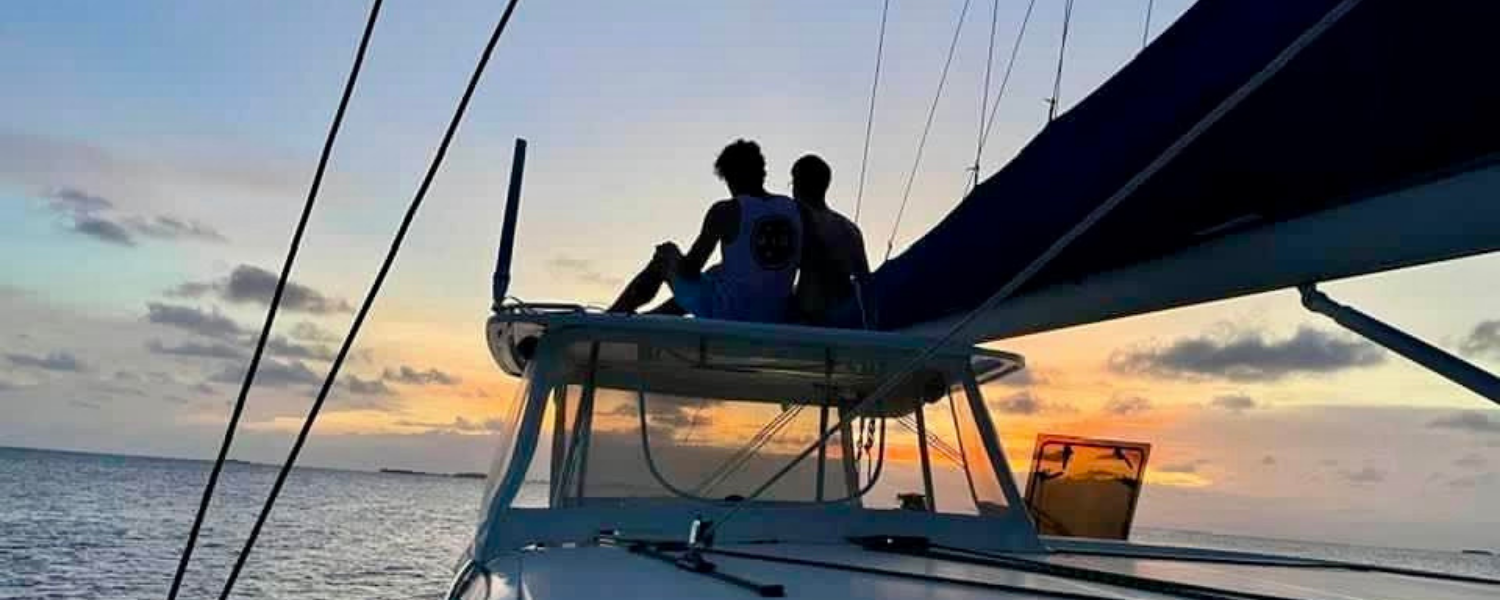 Our First Boat
Shortly after getting settled into our home in the jungles/mountains of Cayo on the western side of the country, and after a couple of sailing charters around the cayes and the reef, we decided we wanted to take the plunge and explore purchasing our own boat – which would be our first. We were specifically looking for a sailing catamaran since our primary sailing grounds would be inside the reef in Belizean coastal waters, and the most popular vessel in Belize is the sailing catamaran. When we began our search, we found most of the catamarans on the market, especially those with the characteristics for which we were searching, were Leopards.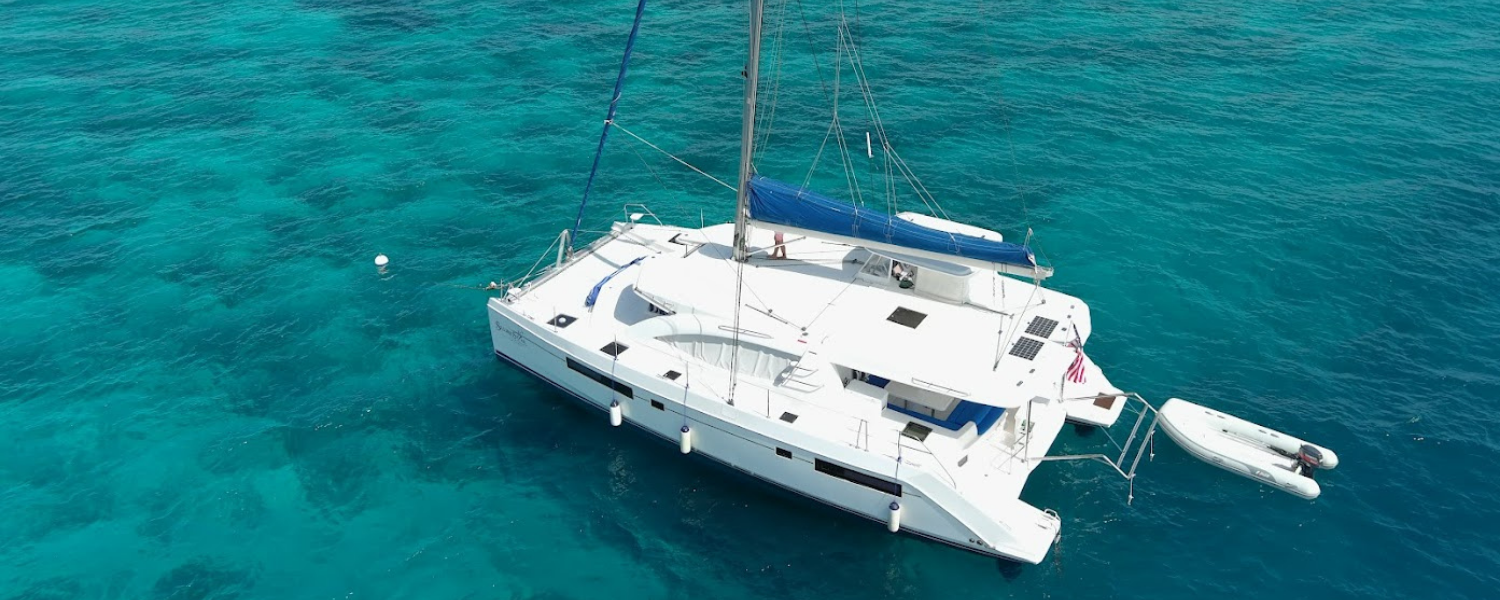 Choosing Leopard Brokerage
As our friend, Renee Brown runs the Moorings Base in Placencia, we had many discussions around the potential of joining the Moorings Yacht Ownership program on one of the new Leopard 50s (Moorings 5000) that was on its way. While the program is a fantastic option, we were a little concerned about how much time we would have on the boat given that we would be living very close to it. However, the deciding factor for us was when it came to the policy of not allowing pets on board the boat during the program. While that policy makes perfect sense, we don't have children, so our two Pharaoh Hounds, Journey, and Evo, are our version of children, and we just couldn't bear not having them with us as we enjoyed our life on the water.
This led us to explore purchasing our boat outside the Moorings program, and the natural choice for us was to leverage the Moorings Brokerage, since we were familiar with all the love and care the boats get during the program, the excellent maintenance, and the assurance that we would get a quality boat in great shape through the phase-out process from The Moorings. As first-time buyers, and never having owned a boat before, we had an excellent experience with our Moorings broker, Bill Regan out of Florida, and we landed on a 2013 Leopard 48 that was currently undergoing phase-out in Tortola, BVIs. We wanted a boat that was large enough to accommodate us, our dogs, and the ability to have space for our family, friends, and crew for those multi-day sails in the cayes.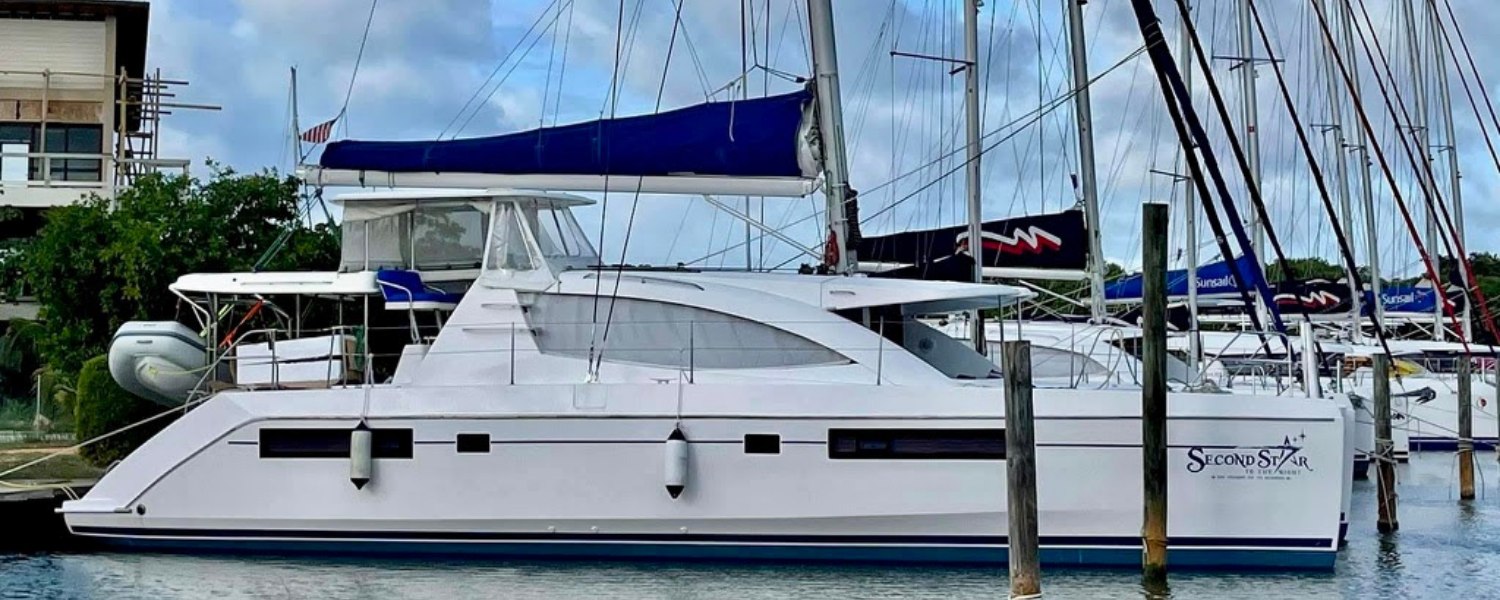 The Outcome We Always Dreamed Of
Neither Mitchell nor I grew up sailing or had any real experience sailing beyond chartering in the coastal waters of Belize around the cayes and the reef, nor do we have any designs or plans for open water sailing or taking the boat out beyond the reef. We could spend a lifetime exploring the waters and islands between the Belizean coast and the reef, and never see it all. That being said, during the purchase process, we still took the opportunity to charter a Leopard 46 sailing cat out of Belize City to take our ASA 101, 103, and 104 courses and get our skipper certifications so that we could comfortably sail on our own. I'm a private pilot, and Mitchell works in the aviation industry, so we were already familiar with the basic concepts, dynamics, weather, and the importance of those factors on our ability to operate such a vessel.
While we couldn't wrestle the time away from work to join our delivery crew for the 10-day sail of the boat from Tortola, BVIs to Placencia, Belize, we have already spent several weeks on board in the two months since she arrived. It's clear to us now that we made the right choice of purchasing our own boat since at this rate we will spend far more time on board than would be possible in the Moorings Yacht Ownership program – especially since we can get in the car and be onboard in just over two hours. We've already taken a dozen trips with family and friends around our paradise here in Belize. We've not only explored new islands, portions of the reef, and passages we had never seen but also spent numerous trips revisiting places we've fallen in love with to experience new parts we simply hadn't had time to do in the past. Our dream is likely very different from other sailors or boat owners, but there is an unbelievable and extraordinary sense of peace and happiness that we get from sailing only in the waters of our little jewel in the Caribbean.